Your "Kite Adventure" begins here...
Highlights

---
Plenty of space to relax spread over four decks - the boat is 30m long and 8m wide
The Kite Adventure is specially designed for water sports, e.g. with holders for boards/foils and shelves for kites and wings
Each of the 10 double cabins has its own bathroom with shower (hot/cold fresh water)
Bean bags, hammocks and sun loungers
Spacious salon with tables and bar
Flexible length of stay - one or more nights
230V solar power - no generator noise
Wifi via 4G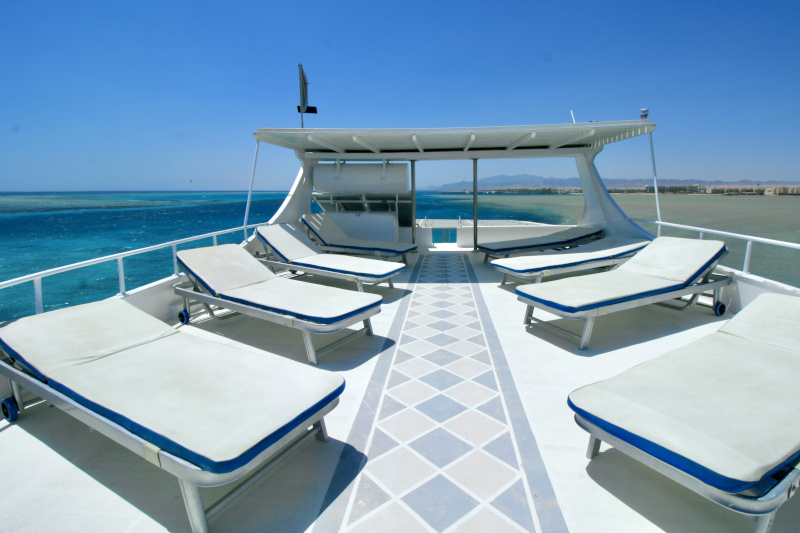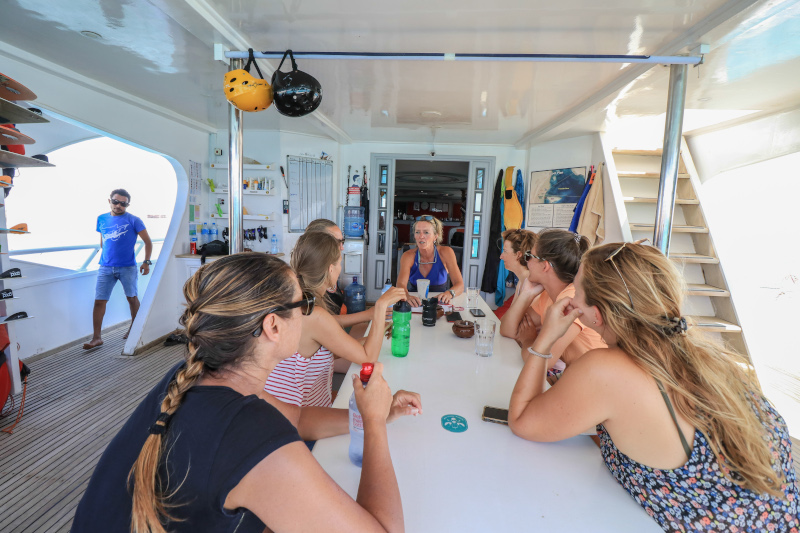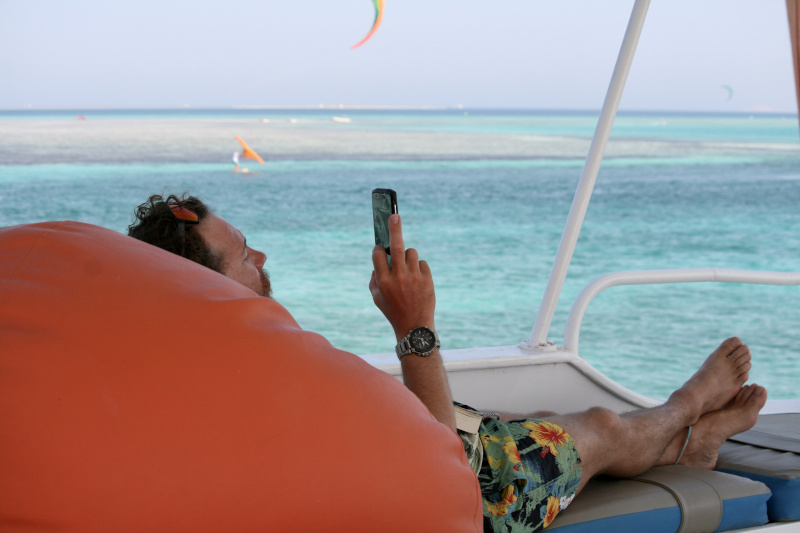 Deck Layout

---
The Kite Adventure has four decks. Let's start at the bottom: Here is the cabin deck (Lower Deck) with eight double cabins. Six of them are equipped with two single beds each and two of them with one double bed each. On the stern side you climb the stairs and come directly to the saloon on the main deck.
On the main deck, adjacent to the saloon, is the kitchen and a covered outdoor area with a large table and benches. This is where kiters, wingers and our ever-helpful crew hang out during the day. There is space for your board and kites/wings on the shelves. At the stern is the platform from which you can jump into the water, whether for kitesurfing, winging or just cooling off. Here you will also find two toilets with showers.
The stairs lead to the upper deck. Here are two more double cabins, each with two single beds, featuring large windows and a breathtaking view. Under the shade canopy you will find a "chill zone" with hammocks and bean bags. The captain's cabin is also located here.
The highest point on the Kite Adventure is the sun deck. Here, Egypt's blazing sun provides electricity and our hot water via a solar thermal system. The sun loungers also offer plenty of space for sun-seekers or romantics - get a tan during the day or keep an eye out for shooting stars at night. 
Below you will find an illustration of the deck layout - one thing is for sure: you will find your favourite spot on the Kite Adventure pretty quickly.
Double cabin: Single beds
"Lower Deck"
---
The double cabins on the cabin deck have two single beds and private bathroom with shower (hot/cold). The porthole gives the room the charm of a classic boat cabin. The cabin is decorated in light colours, has plenty of storage space and a fan. For charging your action cam or mobile phone, there are several 230V sockets - generated by solar panels - which can be used with 2-pin plugs without an adapter.
BOOK NOW
Double cabin: Single beds
"Upper Deck"
---
The two rooms on the upper deck have large windows. You can check the current wind conditions directly from your bed. As with the cabins on the cabin deck, there are two single beds here. Fan, power sockets and storage space are also standard. Tall guests (<185cm) shower in a squat position - in other words, a cabin below offers more comfort in this case.
BOOK NOW
Double cabin: Double bed
"Lower Deck"
---
For those who like to share their bed or simply sleep facing any direction, one of the two double bed cabins is the perfect choice. Positioned at the bow, an oversized bed with a view of Soma Bay awaits you. Fan, power sockets and shower/WC are standard. Oh yes: We are also happy to arrange them as honeymoon cabins.
BOOK NOW
Lunch and dinner on the boat
---
As soon as the chef's magic words "Food is Ready!" ring out, the salon becomes the meeting place for hungry water sports enthusiasts. Our guests will find a range of different dishes at the buffet. We are happy to cater for vegetarian, vegan, lactose- or gluten-free diets or other allergies.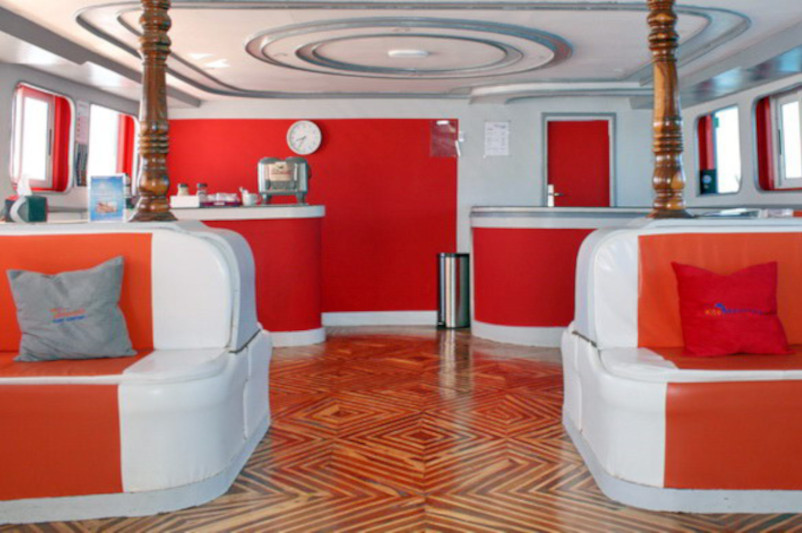 The bar offer
---
At the bar counter, our guests will find the right drink at any time of the day: In the morning, there is an energy kick with Nespresso coffee or tea. Then soft drinks to cool down, for example Coca-Cola, Sprite, Fanta or Schweppes. Snacks are available for in-between enjoyment; be it sweet with Twix, KitKat, Bounty, Snickers and Mars or salty in the form of crisps. And if it's time for an aperitif afterwards, we offer cold beer, wine and cocktails.